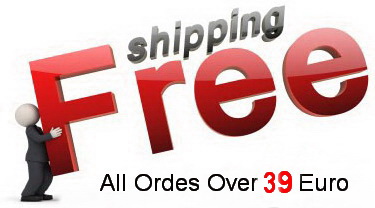 Only for Greece with Speedex
Orders up to 39 €
Orders over 39 €
From our Shop HairMaker
FREE
FREE
Pick at your space With Cash or prepayment.

Speedex 3,80€

ACS - 3.60 €

FREE
The products can be shipped to you anywhere in the Greek Territory.
The products will be sent to you at the place you have indicated on our order form with Speedex or ACS courier service. For orders over € 39.00 the shipment is totally free of charge up to 2kg of weight (there is no shipping charge). From 2 kg and over, you are charged 1 € per pound.
Orders up to 39 €: 3.60 € Send to your location
( NOT ACCEPTED WITH DHL CARRIER-NOT FOR FREE)
Orders over 39 €: FREE (up to 2kg)
Receive from HairMaker.gr: FREE .

• The above charges refer to shipments throughout Greece without any restrictions on islands - inaccessible - or remote areas, and without charge or any other hidden charge.
• All deliveries are from 10am to 5pm Monday through Friday.
• Deliveries do not take place Saturday (extra charge of 3 €).
• Deliveries at a specific time (delivery date between 3 hours or 10 am) are called special delivery and have an extra charge of € 3.

• HairMaker.Gr will make every effort to send you the products within business days. For products that are "Back Order", the delivery time is approximately 3-5 business days (Monday to Friday), provided they can be ordered from HairMaker.Gr's suppliers. The place of delivery refers to the registration confirmation.
• Your orders are shipped on the same day of your order if available and usually delivered within 1 to 3 business days from the date of order. Orders we receive after Saturday afternoon will be dispatched Monday afternoon.