Invisibobble Nano To Be or Nude To Be 3x
Available
Tax included
By buying this product you can collect up to 3 point points. Your cart will total 3 points that can be converted into a voucher of €0.09.
Delivered within 1 - 3 Working Days. (Only for Greece).
The long awaited invisibobble for blondes is a camouflage in this collection.
Subscribe To When In Stock
You have successfully subscribed to this product
Invisibobble Nano To Be or Nude To Be 3x
Everyone loves a natural makeup look – now your hair gets to experience this subtle and chic look too with the To Be Or Nude To Be shade. The long awaited invisibobble for blondes is a camouflage in this collection.
Each pack contains 3 clips.
It leaves no scars your hair when removing:
The invisibobble allows your hair to stay combed in any hairstyle you want, without damaging your hair.
Avoid headaches:
A common problem when wearing rubber band in your hair is the headache that is created in many cases, especially in strictly hairstyles. With invisibobble your scalp stays strictly in anatomical position and in hat way you avoid the headache.
Strong handle:
Due to the spiral shape in combination with the elastic material, the invisibobble typically grips the hair and provides a stable handle that gives support in horsetail and comfort.
Prevents broken hair around the handle:
Because of its smooth grip the hair remains intact.
Resistant to water and sweat:
Even for a full beach activities or sports, it will be the perfect solution! Even in wet hair can be easily solved.
Innovative styling tool:
It can be used for quick and easy in modern hairstyles for every occasion without clips in your hair.
Hypoallergenic:
Invisibobble are certified and much healthier than conventional hair bands and as therefore often used by people with allergies.
Ideal for any hair type:
The invisibobble is ideal for all hair types. Whether curly, straight, thick or thin - the invisibobble
always guarantees a healthy and grip in your hair.
Made in Germany.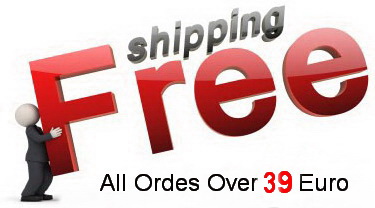 | | | |
| --- | --- | --- |
|  Only for Greece | Orders up to 39 € | Orders over 39 € |
| From our Shop HairMaker | FREE | FREE |
| Pick at  your space With Cash | ACS - 3,60€ - Speedex 4.00€ | FREE |
Only for Greece all orders  worth over 39,00 € Delivery is free until 2 kg. Every kg more is 1 euro per order.
The basic charge for each order net value of less than 39,00 €, is 3,60 € with ACS and 3.80€ with Speedex until 2kg. Every kg more is 1 euro per order.

These charges relate to areas that are not characterized by the affiliated company courier as inaccessible. For areas outside the network service (courier) and  
characterized as inaccessible, shipping costs may differ. In this case you will be informed via e-mail or telephone within a period of 24 hours for the cost. Unless 
you agree with the cost of transporting eligible within 24 hours of reception of the media can request correction or cancellation of the order. The passage of time this will be evidence of the agreement and acceptance by your transportation costs.
HairMaker.Gr,, will make every effort to send your products within working days indicated. For products their availability is "REQUEST" delivery time down to approximately 6-8 business days (Tuesday to Friday), with the condition that they may be ordered from its suppliers HairMaker.Gr.
The place of delivery in the Registration Confirmation.
Your orders are sent  the same day of the order and usually delivered within 2-3 working days.  Due to covid 19 maybe your order will be delayed.
In the absence of the product you ordered or delay in delivery due to force majeure (weather, strikes, etc.), we will contact you to confirm us if you wish to complete your order.
HairMaker.Gr not responsible for delays in performance (including delivery) due to circumstances not attributable to the fault of HairMaker.Gr or due to force majeure and shall be entitled to an extension of time for execution. 
Examples could include strikes, terrorist acts, war, problems of supplier / transport / production, currency fluctuations, governmental or regulatory action and natural disasters. If this lasts more than 2 months, this Agreement may be terminated by either party without compensation.
Shipping Cost for international customers used the tab Calculate Delivery Cost, above, over the product description. 
Available carriers to Greece Speedex - Acs -  Dhl. (DHL Not have free shipping over 39€)
Collection from our store.
Now your online ordering becomes even easier and faster! Receipt and Payment of your order from our store.
In order to receive it from the store, it is required to have made an order by phone or online. For the convenience of all of us, prefer to know the product codes listed on the right of the product photo.
The prices of the online store are the same as those of the physical store.
Once you complete your order, your products will be committed and the preparation of your order will begin. Once it is ready you will receive an Email informing you that your order is ready for receipt.
Warm request do not come to our store for collection if you have not received an email that your order is ready for collection.
Pay for your order with a Visa-Paypal card or bank deposit and method of receipt (Collection from the store), and your order will be waiting for you in our store  sending us the proof of payment to [email protected]
Alternatively you can choose Payment in the store, and your order will be waiting for you for 2 working days in our store.
If you do not receive it within the 2 working days, your order will be automatically deleted from the system, and you will receive a cancellation email.
You can pick up your order during the opening hours of our store at 81 Kyprou Avenue, Argyroupoli, 16451.
Tel for reservations and receipts of products at 2109901100.
Monday 9.30 - 17.30
Tuesday 9.30 - 20.00
Wednesday 9:30 - 17:30
Thursday 9.30 - 20.00
Friday 9:30 - 20:00
Saturday 9:00 - 17:00
You can choose a payment method depending on your preference between:
1 ) Credit Card - payment via Piraeus bank for all cards. The HairMaker.Gr online store accepts all Visa, MasterCard, American Express and DINERS credit cards. For purchases with your credit card, follow the checkout instructions. You will fill out the order form and your credit card number and expiration date, as well as the 3-digit number (CVV) on the back of your credit card.
In case you choose to pay by credit card, you must be present when you receive your order, having your credit card and your identity with you. Your order can not be picked up by a third person who displays the credit card and wishes to pay with it for you.
If the order is made in the data and on behalf of a company then your credit card must be corporate. Upon receipt of the order, the corporate credit card holder must be present with his card and identity card.
2) Payment by payment to the HairMaker.Gr Bank Account. (only For Greek Customers ).
In the bank's deposit, you must state your full name as your reason and indicate the order number as a deposit comment. For faster execution of your order, you must send us the receipt of the deposit via e-mail to [email protected]
The bank accounts to which you can deposit the money are:
Name of the beneficiary: Gkotsopoulos I & Vallari P.OE
Piraeus Bank: GR6401720190005019072910053
Eurobank: GR3102602830000610200560053
National Bank: GR3101100860000008620185275
Alpha Bank: GR3801402370237002002000285
ATTENTION: In order for your order to be executed directly, you must first deposit the total amount into one of the above accounts and send us the proof of payment by email at [email protected]
3) Cash on delivery . through Speedex Courier Company. (only For Greek Customers ).
4) Paypal.